What comes to your mind when we talk about WhatsApp?
Is it all about fun, messaging, chatting with a friend, the so-called family group, unlimited video calls and whatnot…
But have you ever wondered that WhatsApp, the so-called platform for fun and informal conversation can ever be used for formal business conversations? As a platform for expanding and scaling up your business to great heights. 
If not yet, don't worry. We at Buffalo Soldiers are here for your help!
WhatsApp API Integration
WhatsApp API Integration is a feature offered by WhatsApp which helps businesses to connect to their customer's world over in a simple, secure and reliable way.
It is a handy feature for all types of businesses, big or small, to reach out to more than 1.5 billion active WhatsApp users.
So to tap the 1.5 billion active users as your target customers,  check out the steps given to set up your business account in minutes and visualize the impact of WhatsApp rolling over.
Steps to get started with your WhatsApp business account
Before we start creating your business account on WhatsApp, make sure to fulfill these mandatory requirements, to begin with:
Create a Facebook Business Management Account

Verify your business 
Once you fulfill the steps mentioned above, you are ready to launch your business on WhatsApp. So what are you waiting for, let's roll the ball and get started!
STEP 1 – Set up your WhatsApp Account
To set up your WhatsApp account, download the app and enter your registered phone number and the display name of your business and submit it for review. 
After the process of review is complete, you will get access to a base64-encoded certificate, which is essential for registering your business with WhatsApp. 
STEP 2 – Set up WhatsApp Business API Client
WhatsApp Business API Client is based on Docker. Therefore, install docker in your system to ensure the API client could set up quickly. 
Clueless about Docker, worry not and check out this step by step guide to install Docker.
So now when you are ready with Docker in your system, install WhatsApp API in any of the two ways as mentioned:
These are the two most commonly used ways that can help you set up WhatsApp business API with backup, recovery, and all relevant features to assist you in managing your business on your own.
STEP 3 – Complete the registration process
After setting up the WhatsApp business API client on your system, complete the registration by entering your registered mobile number and filing up the registration form in the web business tool option.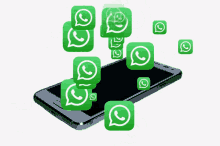 STEP 4 – Update your application settings
Once the API client starts working, click on web business tools to complete the registration process by updating the following settings.
Application settings:

These settings are related to the functioning of clients which includes callback settings, webhooks, sent status, media download behaviour, etc. which will help you receive notifications whenever any customer sends any message to your WhatsApp account.
Business Profile settings:

These settings include details regarding your business which will be visible to all your potential target customers. So ensure that all information like email address, contact number, website and all relevant information is updated.
Now your registration process is complete. To check that your WhatsApp business account is functioning well follow the next and final step in the process.
STEP 5 – Send a test message
The web business tools allow you to send four types of test messages from your WhatsApp business account, which includes:
Text message 

Message template

Document

Media
So, to activate all these types of messages check the status of your registered mobile number and send a test message to your WhatsApp business account to enable the Customer service window.
This activation will help you reply to all types of customer queries and messages within 24 hours and hence ensure a quick and effective response to your target customers. 
If the above-sent message arrives in your account than your WhatsApp business API account is successfully installed, and now you are all set to make your business reach out to the next 2.5 billion users who are actively using WhatsApp. 
So this is how we at Buffalo Soldiers help you set up your business account in 5 easy steps. If you want to make the best use of this WhatsApp business account,  you must follow these additional tips and tricks to reap the maximum outcome from your business account.
Check the proper functioning of your business account by circulating demo messages among your team members to grasp the control over all the functions before using them with your potential customers.

Try to respond to all types of customer queries within 24 hours to ensure excellent customer experience. 

Follow all the rules and regulations of web business tools while undertaking business activities with WhatsApp. It will ensure efficiency in doing business and will prevent your business account to get regulated or deactivated by WhatsApp. 

Do not send duplicate notifications to multiple channels and avoid spamming to your customer's account. 

Go through the FAQs thoroughly before using the direct support ticket services offered by WhatsApp to solve your queries. 
Now, all of us are all set to create your business account with WhatsApp and make the best use of the tips and tricks as mentioned to help your business fly high with the help of 2.5 billion active WhatsApp users.