Are you a content writer or aspire to be one who can inspire the world with the power of their writing abilities. 
Well, if you are a content enthusiast than, this is the right place for you!
With the explosion of online platforms and the availability of high-speed internet all over the world, the world of content marketing is functioning at an all-time high. 500 hours of YouTube content and 2500 articles on WordPress are published every minute.
This massive quantity of content over the internet has highlighted its significance all the more across industries. 
For being in the top 10 highly influential content marketers list, the focus must be on the quality of content than quantity.
To have a better understanding of quality content, check out the top 7 tips that will not just help to improve the skill of content writing but will also enhance your personality as a marketer to influence. So let's get started!
Create specific content
Specifications are the need of the hour. With an abundance of general content all over the internet, what will help you set apart from the crowd is specifications. 
Before attempting any form of content, think from the perspective of a user who searches their query over Google. Is it something general that you look for? or is it very specific, related to a particular brand or a specific feature of a product?
Yes! You got it right. Prepare yourself to add a specific value to your content which your potential audiences would be searching for and then you are all set to hit the second nail.
Buffalo Soldiers TIP: Never attempt content as a part of your daily chore, instead develop a fire within to create the best content on any topic allotted to you.
Add value to your content
Adding value is the key. Make sure you create content that looks fresh, alive and interesting for the viewers which, can catch hold of their attention to give a read.
Adding value to your content can be done in numerous ways, by adding some interesting facts or using a different style of writing the content which altogether gives a different experience to the reader.
So try to understand your target customers and think from their perspective, as to what benefit will they derive by spending time reading your content. If you ask such questions while writing your content and get the answer, then bang on!
You are on the right path. So try to enrich your customer experience, give them the delight, which can teach, entertain, inspire and encourage them to take the right step and stay satisfied. 
Be creative to express your imagination into words
If the content was all about quantity, then all companies would be the factories creating an abundance of duplicate data to ace the finish line.
But fortunately, this is not the case. In the age of massive competition across the content marketing industry, quality is the king.
So to reach the top position in content marketing, focus on expressing your creativity to the fullest. Try to add the perspective which has not talked about and what your audience would like to know. Use catchy headlines and create actionable content to touch upon the emotions of your target audience.
Try to think differently, which is not restricted and add the elements of storytelling to your content that can create a long-lasting impact on your customers to achieve goals.
Use analytics in your content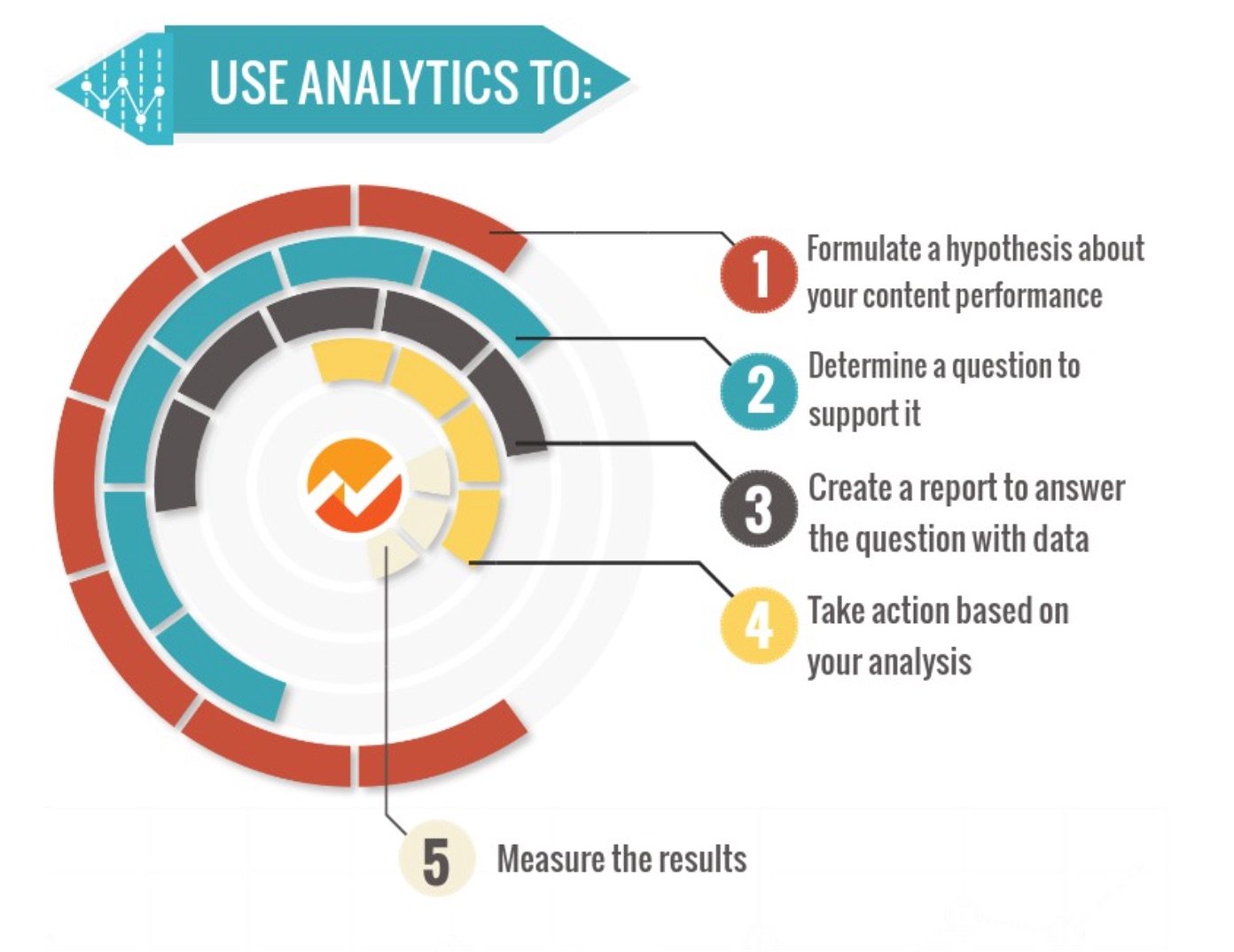 Analytics is all about numbers. Wait, are you afraid of maths? Well, it is that that game of mathematics we are talking about.
Adding numbers or percentages is a great way to justify yourself. It is the easiest and the most convincing way to deliver thoughts to your target audience. 
So try to state facts and highlight the numbers you are using to support your piece of content. But before you use any quantitative fact or number, ensure that you collect it from a reliable source. So start crushing numbers to change your game of content like never before!
Enhance your communication with catchy images
Have you heard this famous saying, Do not judge a book by its cover.
Well, whether you agree or not, you cannot deny the fact that the first impression is the last. And the same rule applies to your content.
Make your content as beautiful as possible by using the right set of images, videos and gifs that can enhance the reader's experience and attract them to visit and read your content.
Stay organized
It is an important parameter for every content marketer in general. However, it is not talked about much, but being organized is the bridge between a regular content writer and a quality content writer.
So ensure that your thoughts are well aligned before you start writing any sort of content. Try to focus on one aspect of the topic while writing and explain it to the fullest in the best possible way rather than cluttering everything on a single plate.
This practice will help you create a clean copy that is clear and easy to understand for every reader.
So, stay organized and never forget the saying, "less is more".
Use the power of storytelling
The power of storytelling is the best way to present your content which creates the most impactful and long-lasting impression on the target audience, be it a video, a blog post, image or anything. 
Try to build up a story to convey the concept rather than delivering it most straightforwardly. Remember, no one likes reading a textbook anymore. 
Create your own stories by adding examples, and real-life cases with which your audience can relate to and try to develop a roadmap which helps every reader experience the journey you want them to experience. 
So, these are some quick tips and tricks that can improvise your quality of blogs.
Now let's start afresh with a new vision and perspective towards creating the best quality content like never before and stay tuned with Buffalo Soldiers for more such tips and tricks for enhancing your content marketing skills.